Skip to Main Content
It looks like you're using Internet Explorer 11 or older. This website works best with modern browsers such as the latest versions of Chrome, Firefox, Safari, and Edge. If you continue with this browser, you may see unexpected results.
Includes Mexico (MEX) & Yucatan: Focus on Native Cultures (YUC)
These kits consist of 1 container of artifacts, 1 container of resources based on the universal 12 themes and a book bag.
Country Flag
Country Map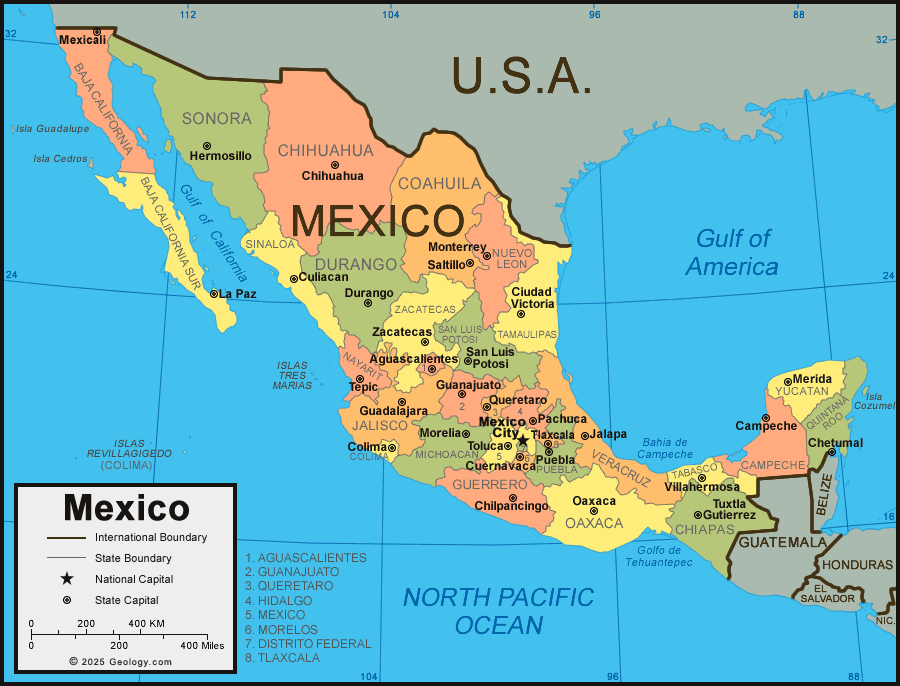 Kit Contents
Kit #1- Highlighting our neighbors to the south, this kit offers case studies and literary resources that link many different cultures throughout Mexico and the Yucatan Peninsula. The resources offer an insight into the various indigenous cultures that are situated in the country. Complete with photos, first-hand accounts, stories, and geographical resources this kit offers a peak into Mexico and the Yucatan Peninsula.
Kit #2- This kit includes many items pertaining to the culture of the area. The kit includes Mexico and the Yucatan peninsula. In here you will find artifacts such as dolls, textiles, pottery, music,
Book Bag Contents
Mexico Book Bag - Highlighting the history and culture of Mexico, this kit offers literary resources and pictures that evoke the culture of Mexico and the rich history. The stories include The Codex Nuttal and Mexican and Central American Mythology that evoke readers into learning more about the history. It is complete with letters, pictures, and other primary sources that offer a tangible peek into the lives and culture of Mexico.
Yucatan Book Bag- Highlighting the lost history and famous stories of the Mayan people, this kit offer literary resources and picture books that evoke children of young ages and older to learn more about the history. With stories including, People of Corn and Lost Kingdoms of the Maya these stories will enrich the minds of the reader and offer them a way to see and read the stories of the Mayan people.
Mexico- Artifact Photos
Yucatan- Artifact Photos